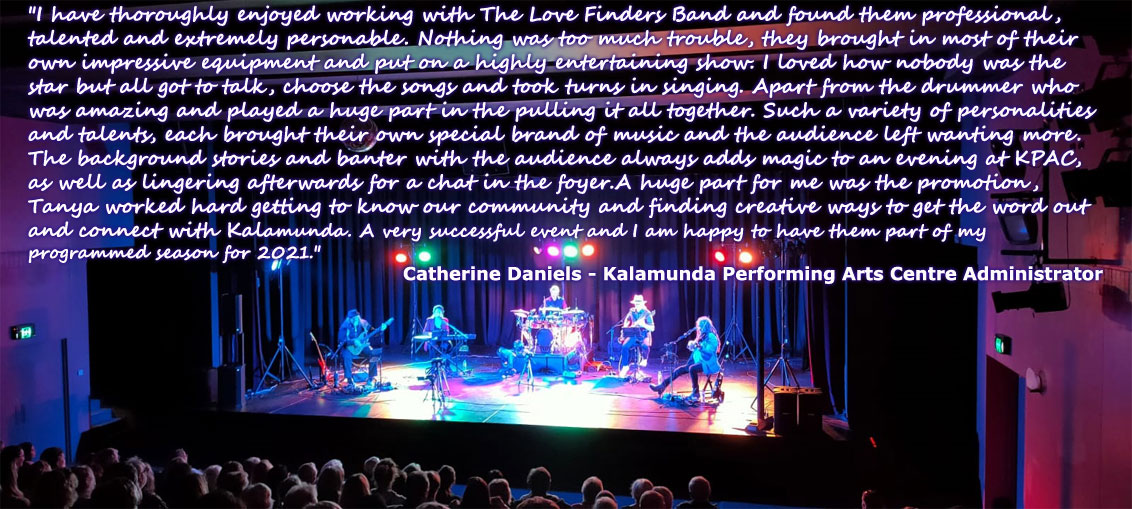 I so loved the Lovefinders show The Road Less Travelled at Kalamunda the other night. There was a great mix of music that would suit a variety of tastes. The sound quality was superb. The band have a unique way of bringing the audience in and I love the way they tell stories that relate to various songs. Such an enjoyable evening.
Peta - Teacher
"Full of surprises this band, indeed they find the love and get my heart dancing! A transcending experience sometimes bringing tears and often laughter."
Marguerite - 48 year old Nurse
"Amazing opportunity to watch an eclectic group of people create music that touchs the heart."
Jenna - 56 year old Doctor
"The Love Finders were super tight and had a killer sound! They seem to have a pretty broad set list and great classics everyone can enjoy and get groovy to!"
Camille - 17 years old
"The Love Finders music inspires me to come together with dear friends and fully enjoy the uplifting music and the company."
"A thoroughly enjoyable evening of live music with the Love Finders band. The variety of music, brilliant sound quality and light show was evocative of times watching live bands. Each song evoked musical memories bringing warm smiles and dancing on the inside. I am very much looking forward to the next concert for the joy of the music and the professionalism of the show. Many thanks guys."
Lorraine - 70 year old Life Coach
"I'd forgotten the simple joy and sensual impact going out to see a 'live band' evokes. The Love Finders Band and especially their latest show "The Road Less Travelled" is a musical treat you will gladly swap the relative ease of your remote control for. Seeing them live, with their full throttled professional big sound spanning all the great genres, Countries & decades, from old to now, together with a 'light show' thats truly 'out of this world,' The Love Finders Band delivers something inexplicably unique that leaves you wanting more and more, time after time. I'm always left feeling charged and changed for the better! The Love Finders Band are on all the regular social media platforms, youtube and @ thelovefinders.band Check them out and hope to see you there!!"
Jacqui - 54 year old Student (Holistic Counselling)
"Thoroughly enjoyed listening to the Love Finders band. A heartfelt trip down memory land, listening to some of my favourite songs."
Debbie - 59 year old Financial Counsellor
"Experiencing the Love Finders is like going to an event with your favourite people and having an amazing, joy-filled time."
Nathan - 40 year old CEO
"The music they played was really cool, they played music that kids would know and we could sing and dance along to the songs."
Cara - 13 years old
"The Love Finders band is uplifting and can be funny, light-hearted, deeply serious and moving... through them I fall in love with new sounds and styles, which is great."
Lynette - 75 year old Yoga Teacher
The music was awesome! I loved singing to all the songs I knew. The lead singer Michael was great, he made me laugh.
Jewel - aged 11
"Growing up I have listenend to and have a deep love for these timeless classics and the Love Finders band just add another layer to them. Very moving and heart opening. Every chance I get, I enjoy every second of them."
Had such a wonderful evening at the Lovefinders Band. Great song choices which sounded really fantastic and with a light show to match. Truely can't wait for the next. Thanks band
Debbie - 31 year old Naturopath
"Experiencing the Love Finders is like experiencing a piece of oneself. A very unique band with a depth of sound you won't experience anywhere else. I see them on every opportunit I can, I just love them."
Thoroughly enjoyed The Love Finders
" Road less Travelled"
Whether you are 16 yrs or 60yrs old , the music accommodates for all with the wide range of fantastic songs , that you can't help sing along to .
Loved the banta between the band , they were having as much fun as we were .
The Love Finders take you on a musical journey ... can't wait for the next show .
Highly recommended
Sophia - 49 year old Proprietor of The Source Hairdressing
"One of the many things I love about the Love Finders is their incredible and unique ability to take me on a journey with their music where I experience many different affinities, realities, feelings, memories and of course love in its many flavours."
At the concert in Kalamunda, The Love Finders took the audience on a journey, travelling through time and space together. It wasn't just about a group of individuals sitting in a concert hall, somehow we were all able to join forces and were moved to feel much hope for a brighter future. Reaching out and connecting with each other, strangers becoming friends, united in a common purpose. A united we stand, divided we fall kind of involvement where spirits were lifted and hearts activated in love. An extraordinary experience. Thank you
Jenny - 60 year old Founder of Heartforce
"What I love about the Love Finders band in that they are 'real'. They bring themselves from their hearts to their music. The music is awesome, with songs from a variety of decades. Some recent and some truly golden oldies that still stir me to dance the night away."
The Road Less Travelled with The Love Finders took me on an amazing journey. The quality of the sound, the strong connection and really lovely humor between band members was delightful. It was an incredible experience and I'm looking forward to the next show.
Lynette - 59 year old Artist, Author, Holistic Counsellor
"I never thought I could enjoy popular music, but the Love Finders has proven that wrong. The way the Love Finders play the music brings me more joy and depth of feeling than I could have imagined or previously experienced through music, regardless of genre."
Faith - 27 year old Classical Pianist and Media Advisor
"The songs that the Love Finders play seem to move me deeply, and the healing begins."
Belle - 65 year old Housewife
"The Love Finders move you like no other band you know. It's captivating and opening. You feel alive and awakened and discover the power of love."
The show blew us away! We kept turning to each other glowing with a smile or heartful tear saying 'Wow', 'That was amazing', 'I love that version' .. A magical show on many levels.
Simon - 51 year old manager
"The Love Finders move me deeply, touch my heart and make me smile. An essential experiential journey!"
Deb - 58 year old Social Worker
"The Love Finders, for me, are a spiritual band... they love music, play from their hearts and move my heart every time. They perform a huge diversity of songs too, so there is something special for everyone!"
I loved the Road Less Travelled because it was a stage auditorium event and a chance to really listen appreciate and enjoy the music and journey the Love Finders bring.
Patti - 56 year old Yoga and Meditation Teacher
"The Love Finders bring so much joy and heart to their music. If you ever have the opportunity (and good fortune) to see them live, do it! It's unlike anything I've experienced. They bring such a strong spirit of connection and community that is really touching and inspiring. It sneaks up on you in the loveliest way! You walk away feeling so lucky to have been able to bask in their love of life and music. I highly recommend experiencing it for yourself!"
Charlie Cousins - 39 year old Actor
'I've never been a groupie until I met the Love Finders Band and they are certainly worth following! We thoroughly enjoyed their Road Less Travelled show in Kalamunda, there's a great feel to the music which is filled with love and joy'.
Lee-Anne - 46 year old Childhood Educator
"One of the things I look forward to the most when visiting Perth is a concert with the Love Finders! The band is unique, fun and inspiring. The music is warm, inviting and intoxicating. I love how they take some of my favorite tunes and make them their own, and also introduce me to songs that take me on an unexpected journey. Being with the Love Finders and dancing to their music is always a treat. I highly recommend them."
Arlene - 61 year old Attorney, USA
"You don't just listen to the Love Finders band, you experience it as the music takes on a life of its own journey for the heart and senses. Amazing."
Lorraine - 65 year old Nurse and Bowen Therapist
"Listening to the Love Finders is like walking a journey where I find different 'internal views' in each song. The music helps me to connect to different parts of me - it can bring up sadness, joy, wonder. One moment my heart may feel like it's breaking, the next my toes are wiggling wanting to dance. An evening with the Love Finders always offers a rich journey inside and out."
Jane - 46 year old Massage Therapist and Life Coach
What I really loved about the show was the realness and authenticity of the band. They have a way of really just being themselves, and sharing their journeys with the audience and bringing magic to the music. A lot of fun and a lot of warmth. Everything from foot tapping blues to moving folk. I love these gigs!
Lisa - 51 year old Learning and Development Consultant
"The Love Finders band is very unique and very authentic as they bring all of themselves - body, mind and soul - in all of their performances. Listening to their music takes me on a healing journey and assists me to remember my true essence."
Carmen - 53 year old Accountant
"An evening under the stars, wrapped up in warm rugs with my daughters and close friends listening to the Love Finders band... a magical evening - songs from my childhood and newer songs the younger ones could also sing along to! A truly wonderful band, thank you for the beautiful memories!"
Michelle - 41 year old Graphic Designer
"The Love Finders are a really down to earth group, they touch your heart as they take you on a journey."
Nigel - 43 year old Security Officer, Crowd Controller and Meditation Facilitator
"The Love Finder take a tune, infuse it with their own special love, and if you allow the love, the memories touch your heart deeply."
Terrie - 52 year old Dance Instructor
"There's something different about the Love Finders band. They bring an intangible quality of something more than just the music. They are generous with their playing, putting loads of heart and soul into every performance, and I am taken on a journey which moves and uplifts me in ways beyond description. Definitely worth experiencing."
Belinda - 59 year old Founder of Global Coaching Academy
"Experiencing the Love Finders band is a moving experience - and not just the body! Their music goes deep. It touches my heart. Great songs played in a new way. Well worth a listen."
Peta - 56 year old Teacher
"The Love Finders is a very special band - beautiful music. The members of the band are all extraordinary people as well, which makes them truly uplifting to listen to."
Indra - 52 year old Teacher, USA
"The Love Finders take you on a musical journey of discovery. Their eclectic soundscapes and selection of songs makes each concert a unique and moving experience full of love, joy and wonder."
Vesna - 49 year old Social Ecologist
"The Love Finders have a great repertoire of music suitable for all ages. Their music is infused with love and it takes you on a journey. If you are looking for a special band for a wedding, concert or corporate/private function, I would recommend the Love Finders."
Tanya - 47 year old Public Relations and Event Manager
"It is always a joy to be in the presence of the Love Finders band. Their unique, inspiring mix of classics and original dance grooves create a memorable ambience for your next special occasion or corporate function."
"That was one cool music and lighting Show, and along with the ambience of the theatre, we loved it thank you! After not seeing a Love Finders show for a while, my daughter expressed she was amazed at how much has improved with the strength and bandwidth of sounds. A credit to your consistent work and kindness, in creating these lovely opportunities for us to enjoy."
Jen - 49 year old Bowen Therapist, Facilitator and Coach
I really loved this Road Less Travelled show with the Love Finders.
Beautiful songs and much care taken to bring out the story and essence of each of them. Lots of magic woven here and great repartee and affection between the band members. Thanks for a wonderful evening!
Sue - Counseler
"The Love Finders put on such a high quality show with an intimate feel. It's the kind of show that has become rare these days, and I really loved being able to sit back and relax and enjoy quality music with an amazing light show. A great night out!"
Dr. Elinor - Psychologist
I had a wonderful evening at the Kalamunda theatre with the love finders band playing a large array of music and songs it was enthralling to be part of the audiance and watch these talented performers live on stage, lots of toe tapping and swaying in my seat. Looking forward to seeing them again brillant show.
Thank you
Lorraine - Nurse
Quite simply, a thoroughly enjoyable and uplifting evening of live music. The Lovefinders have a real knack for picking some absolute gems from through the decades and bringing their own special touch to them. Lots of old favourites and some brand new ones - it's been a fun way to broaden my musical experience. Check out the YouTube channel and see for yourself.
Asifa - Chef
LOVED this evening! A moving, uplifting, heart-opening, toe-tapping show that took me on a real journey! Wonderful song diversity from different decades. Great variety with 4 of the 5 band members taking the lead with different songs.
Fun, engaging banter on stage. Brilliant light show & awesome sound quality.
Venture out & take young & old to watch the Love Finders & behold the beauty & magic in the music they make.
Jane -Teacher
Hey love finders this is Arion, I'd like to give a testimonial to the show. The love finders show, The road less traveled, was a fantastic journey through many genres of music and many brilliant artists. The energy and love between the group is very noticeable and is wonderful to see, it brings the music together and allows for it to tell it's unique story. The technical side of the show is great as well, the lights and sound feel professionally engineered and suit the mood and play to the music. It is an overall great and unique show, I had a lovely time. Thank you
Arion - 16 YO Student
What a gift to be present for the Love Finders show The Road less travelled @ Kalamunda last night. Great sound, great lighting, great venue, wonderful songs and a rare musical experience. No glamour no pretence just great musicians who truly love music and performing. The love and appreciation from the band and audience was palpable in the room. I'm so grateful that I was there, looking forward to more.
Jay - Drug Awareness Educator
"I really enjoyed the Lovefinders Road Less Travelled show, they sounded great, the playlist was awesome with a variety of songs for everyone, I loved hearing different members of the group sing, each person brought a depth, richness and variety to a gig that you rarely see. I especially enjoyed the banter and camaraderie that the band have with each other, it made you feel like you were part of the group or family. I will be back, thanks for a great night out!"
Claire - Psychotherapist
Review of The Love Finders Band by Weekend Notes

The Love Finders Band
at Stringybark Winery and Restaurant
Freelance writer, Social Work & Arts student & traveller based in Perth, Western Australia.
Published March 19th 2020
Enjoy an amazing day of food, wine and music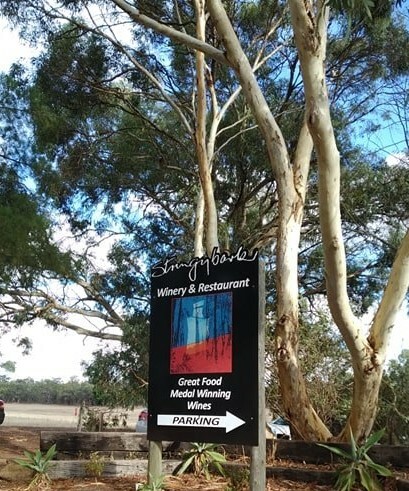 I cannot think of a better way to have spent my Sunday afternoon than to have made the beautiful drive out to Chittering with my partner to enjoy great food, great music, and a wonderful atmosphere. Situated about 40 kilometres north of Perth, the Chittering Wine Region has much more to offer than I'd ever anticipated. Being a regular of the Swan Valley, I was ready to be surprised when the opportunity to explore a northern winery came about.
Driving through the country, down the windy road peppered with grapevines, my first impression of Stringbark was that it looked rustic, laid back and inviting. When we entered the restaurant, we were greeted right away, receiving excellent customer service as the close-knit staff attended us with warmth and care that money just can't buy.
We were seated by a lovely old fireplace, adjacent to the Sunday entertainment- The Love Finders Band. The live music added such a local, homegrown flavour to the already rustic venue, and we really enjoyed the easy listening blues, rock and lovely acoustics. Honestly, the classical nerd in me was purely delighted at the presence of an electric violin which added to that gorgeous country feel!
Along with the lovely menu of delicious fare, Stringybark had an extensive specials board which my eyes were drawn to right away. We ordered Salt & Pepper Squid and Mushroom and Parmesan Arancini Balls for our shared entree, and for mains, I ordered Roast Pork with Apple Sauce and Vegetables, and my partner ordered a classic Chicken Parmigiana. Oh, and I also dabbled in a glass of 2016 Stringybark Cabernet/Shiraz, because it would be rude not to!
Shortly after ordering, my glass of red wine arrived. Man oh man, I only became a red wine person in the past couple of years (a mark of maturity I like to believe?) and this wine was absolutely delicious. The menu described flavours of blackcurrant, plum and chocolate with hints of liquorice and spice, which was spot on, and it was a wholesomely moreish glass of vino. All in all, the relaxation of enjoying a gorgeous glass of red wine whilst listening to blues out in the Aussie country was just magic.
We shared our entrees of Salt & Pepper Squid and Mushroom and Parmesan Arancini Balls, and they were delicious. I am a sucker for Arancini balls, and these did not disappoint. The Salt and Pepper Squid was tender, and the gentle salt and peppered crumb was just perfect. Not oily, not chewy, not basic. It was proper home-cooked food. Once we had finished, we enjoyed a pause between our entree and main, and it gave us the opportunity to further enjoy the band and make room for our main course. The Love Finders played some classic tunes as I continued to sip my wine, soaking up the energy of the room.

Between our entrees and mains, we got to meet the owner of Stringybark and the leader of The Love Finders Band, who were both so warm and lovely! We were made to feel like locals through the kindness of everyone there.

So as I mentioned before, my partner ordered the Chicken Parmigiana (which I am guilty of stealing multiple bites of as it looked too good to pass up). I find that a chicken parma can be a risky choice when eating out; you never quite know whether you're going to get a thin, disappointing schnitzel or a big, delicious fillet. I was delighted to discover that Stringybark's Chicken Parmigiana was the latter- fresh, juicy, and immediately in my top three list of best parma's I've had. SO good!!

After I'd finished being a seagull over my partner's dish, I got to enjoy my Roast pork with apple sauce, crackle and veggies. A simple restaurant staple, it was the perfect Sunday roast I that had been missing recently, and as always, the crackle was a tasty touch. I also really appreciated the freshness of the apple sauce!
All in all, Stringybark and the Love Finders Band provided the perfect laid back Sunday atmosphere to truly lull myself into a food and wine coma before having the head back to the big smoke. As my partner and I left we mused over how lovely it would be to bring my sister and her fiance here, because it really is just a stone's throw away from the hubbub of Perth, and the lovely drive through the country to get there just added to the relaxed energy. With ample indoor and outdoor seating, it's the perfect place to enjoy a meal with friends and some live music, or a bottle of wine and a catch up under the eucalyptus trees.

Thank you to Stringybark Winery and The Love Finders Band for having us, we truly had a wonderful time!

Please check out The Love Finders Band's Facebook page here, and consider booking them for your next event: www.facebook.com/lovefindersband

And check out all of the deliciousness Stringybark Winery has to offer here:
www.stringybarkwinery.com.au